Mu-Mu.com: Another Mystery Solved - Princess Arawali Uncovered
Well, not any more uncovered than she already appears in the 1926 Lost Continent of Mu Motherland of Men by James Churchward as shown below.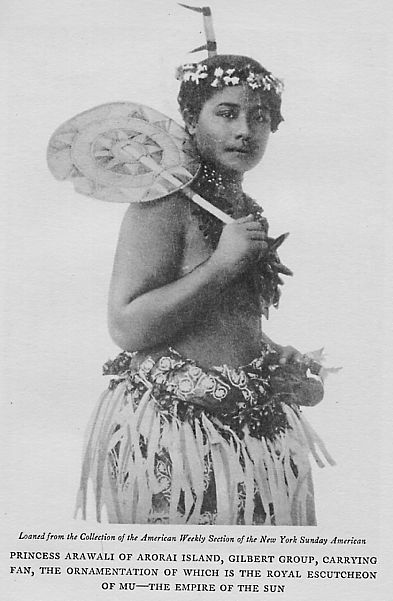 from page 47 of Lost Continent of Mu Motherland of Men
Here is the text concerning Princess Arawali:
Page 46:
The accompanying picture is one from a brown race, Arawali, a native of Arorai Island of the Gilbert group, which lies about 4,000 miles southwest of Hawaii.
The picture shows a young lady with an extremely well shaped and well developed head, of pleasing countenance and gentle expression. It has been said of her that "she is a very gentle, lovable woman, but quick-tempered and slightly jealous, but very dignified notwithstanding her wretched surroundings. She is the daughter of the King of Arorai Island."
Arawali's head and face belong to the representative of a high type of civilization, although her dress is that of a savage. Poor Arawali! She is one of a tribe of cannibals, but, strangely enough, she herself has never tasted "long-pig," the euphemistic name applied to human flesh by the natives. In her hand she carries a fan, the ornamentation of which is the royal escutcheon of Mu—the Empire of the Sun.
No ancient record has ever been found that mentions savagery as existing on any spot of the earth's surface prior to the destruction of Mu. Then why did such magnificent specimens of man as the forefathers of the South Sea Islanders become degraded cannibals? Our story of the great calamity that overtook the first race of man answers this question.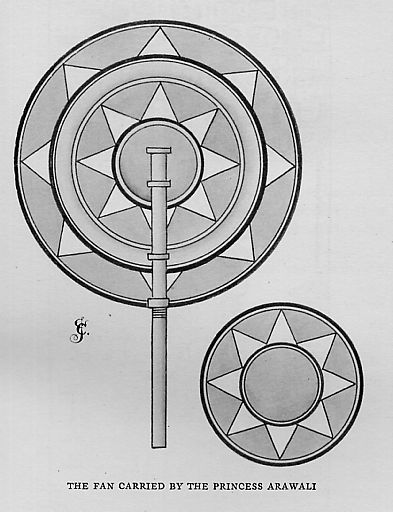 from page 49 of Lost Continent of Mu Motherland of Men
---
Thanks to the help of historian Yannis Deliyannis, creator and maintainer of the Chronicon Mirabilium blog, he has found an article in the March 26, 1911 edition of the American Weekly magazine section of the San Antonio Light entitled "My Home Life as a Cannibal Island King" and passed it along.


Some excerpts from the 03-26-1911 San Antonio Light (American Weekly Section)

"My Home Life as a Cannibal Island King"
Ex Wall Street Stock Broker, Now a King, Tells How It Feels to Have Numberless Adoring Wives and Rule Over a Race of Hearty Eaters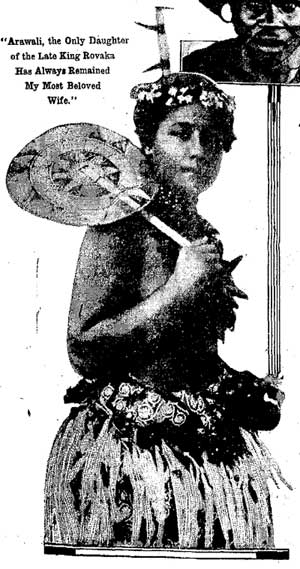 Arawali from the March 19, 1911 American Weekly Section of the San Antonio Light
The article begins:
"Archibald C. Everett, a former Wall Street stock broker, man about town, Beau Brummel and boulevardier of two continents, has become king of Aroral in the South Sea Islands...
"At last he came to Aroral, in the Gilbert Islands. It is in the midst of of the stupendous maze of islands scattered throughout the Southern Pacific. It is 1,500 miles from Samoa, the neaest place where there are extensive evidences of western civilization.
Mr. Everett fascinated old King Rovaka of Aroral. His handsome appearance, his smart clothes, his easy , genial manner, cultivated in Wall Street and the Gay White Way, captivated the venerable monarch. He begged Mr. Everett to consider everything on his island his, gave him his favorite and handsomest daughter in marriage and named him heir to the throne...
"Home, Sweet Home"
By Archibald C. Everett
Domestic life here is entirely free from the worries that accompany it in the United States and most European countries.
Here I find that a girl not only considers it an honor to marry me, but it costs me nothing and contributes to my support as far as it lies in her modest power.
During the six years I have been king of this island I have never refused to marry a girl, old or young, rich or poor. This, I believe, is the chief secret of my hold on my warm-hearted people.
At least once in each month I take a fresh bride, but I have no rule against admitting larger numbers to my household. Sometimes it happens that I receive as many as a dozen at a time. Families are large and rapidly growing in these islands. Whenever a father has a marriageable daughter he does not know what to do with, he presents her to me as a mark of his loyalty. It is an ancient custom, and I cannot but respect it.
The ceremony is always an occasion for a joyful gathering of the people of this and neighboring islands. Then they display their picturesque native customs. Wreathed in in hibiscus flowers and smiles, men, women and children dance and sing and pledge my health in cocoanut wine for three whole days and nights.
You must not suppose that the frequent acquisition and exchange of wives is destructive of permanent domestic affection. My darling Arawali, the only daughter of the late King Rovaka, has always remained my permanent and most beloved wife. She was the old king's favorite daughter, and when I married her he named me his successor on the throne.
She presides over my household with perfect grace and modesty, never doing anything to disturb my peace and comfort, or that of my newer wives.
My wives are recruited from daughters of neighboring kings and leading chiefs of this island, and even from daughters of poor fishermen, why by their pleasing manners and appearance, may gain a place in my household. They are happy, simple, unaffected little creatures, whose only object in life is to minister to my pleasure and win my approval...

---
Observations
Most certainly the Arawali mentioned in the American Weekly magazine article from March 1911 is the same as mentioned in the 1926 'Lost Continent of Mu Motherland of Men.'

There are, however, some differences in the description of Princess Arawali between the accounts.
James Churchward describes her as

"she is a very gentle, lovable woman, but quick-tempered and slightly jealous, but very dignified notwithstanding her wretched surroundings. She is the daughter of the King of Arorai Island"

Mr. Everett describes her as having

"perfect grace and modesty and never doing anything to disturb his peace or comfort."

Another point brought up in the American Weekly article is:


"As I never question the right of my people to observe their ancient customs, so they never expect me to share in those that are repugnant to me."

This is as close to mentioning cannibalism/savagery that the article comes, except for the title of the article "My Home Life as a Cannibal Island King."

Everett proclaims in the American Weekly article that he had been King for six years. According to an article in the New York Times dated February 16, 1911, it mentions that he was elected King "two years ago" or 1909.

Sadly, on July 14th, 1913 the New York Times delivered a message under the title, "ONLY YANKEE KING IS READY TO QUIT" from Archibald Everett, King of Arorai Island to say that he was no longer happy.

The most obvious aspect of this revelation is that the American Weekly article may have taken liberties and perhaps stretched the truth a little. Perhaps when writing his account, Archibald felt that his then-current station in life was required to be embellished so as to remove the implied stain of his past financial failures.

Obviously, James Churchward was reading and consulting the American Weekly section of his local newspaper as early as 1911 or fifteen years before the 1926 publication of "The Lost Continent of Mu Motherland of Men".o
---
I also have no information about Mr. Everett's life after July 1913, whether he ever visited his friends, brought his Princess bride to the United States, or what happened.
If any readers know what became of Archibald C. Everett or Princess Arawali, please pass it along and we'll complete the record.

Have a great day,
Jack Churchward
Clearwater, Florida

© 2011-2013 Jack E. Churchward
---